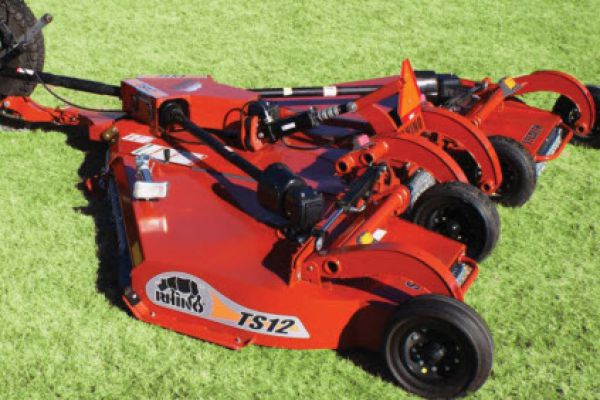 Features
Designed for tractors with 35 - 50 PTO HP.
Short turning radius for cutting in small areas.
1-1/2" cutting capacity.
Low tongue weight for smaller horsepower tractor applications.
Unique "wing-bar" blade carrier protects the gearbox output shaft with minimal weight.
Designed for 540 RPM PTO tractors. Equal angle fully pivoting tongue and direct acting suspension system for uneven terrain.
Smooth decks for easy cleaning and unobstructed underside for airflow through the high volume cutting chamber.
Provides dramatic reduction in mowing time compared to most rigid deck cutters.
Large center section skid shoes and tapered wing shoes provide anti-scalping protection.
Chain guards included for protection.
Specifications
Specifications
TS12
Cut Width
144"
Transport Width
90"
Overall Width
 155"
Overall Length
 148"
Cutting Height
 1-1/2" - 12"
Height Adjustment
 Hydraulic Cylinder
Jack Stand
 Standard
Blade Carrier
 Wing Bar
Blades
 1/2" x 3"
HP Required (Min.)
 35 PTO HP
Gearbox Rating*
160 HP Divider
 
65 HP Center & Wing
 Output Shaft Diameter
 1-9/16"
 Blade Tip Speed (FPM)
 14,504 Center/13,925 Wing
 Cut Capacity
 1-1/2" Diameter
 Driveline Size
 CAT 4 Equal Angle Main/Cat 3 Wing
 Deck Thickness
 Center: 10 Ga Bottom, 12 Ga Top
 
Wings: Double 12 Ga in high stress areas
Side Skirt
1/4" x 11-1/2"
Tire & Wheel Option
Foam Filled Used Airplane Tires or
Laminated Tires
Wing Lift Hydraulics
Standard
Wing Flex (Degrees)
88° Up/25° Down
Safety Tow Chain
Standard
 Safety Deflector
 Chain Guard
Wheel Base
126-1/4"
Tongue Weight
748 lbs
 Weight (Approximate)
 2,750 lbs